Beer Tours
What's a trip down south without tasting the region's finest brews? Here at The Margaret River Experience WA, we love where we live and showing you all the awesome breweries around town.
The craft beer scene has really hit its straps in recent years, and thankfully, we haven't been left behind in the region of fine wine. We've got some of Western Australia's best craft beers right here on our doorstep – so it'd be rude not to offer fun and flexible private beer tours.
Your crew can choose from any of the 10 craft beer drinking establishments, and have a bloody good time along the way as we roll through the picturesque countryside. A few of the breweries offer wine tastings and spirits too, so there's something to tantalise every taste bud. But let's get back to the craft.
Allow us to transport you to the land of hops and barley with a personalised beer tour.
Local Breweries
Here are some of our favourite breweries in the region (we've tried and tested them all, just for you)
BEERFARM
A crowd favourite – it's cool, funky and has a great atmosphere. What's more, they were just named Number 1 Brewpub in W.A (so they're kind of a big deal). We usually end our days here, and we recommend visiting on a Saturday or during the holidays if you want to chill out to some live music. Wine and spirits are also available if you want to mix it up.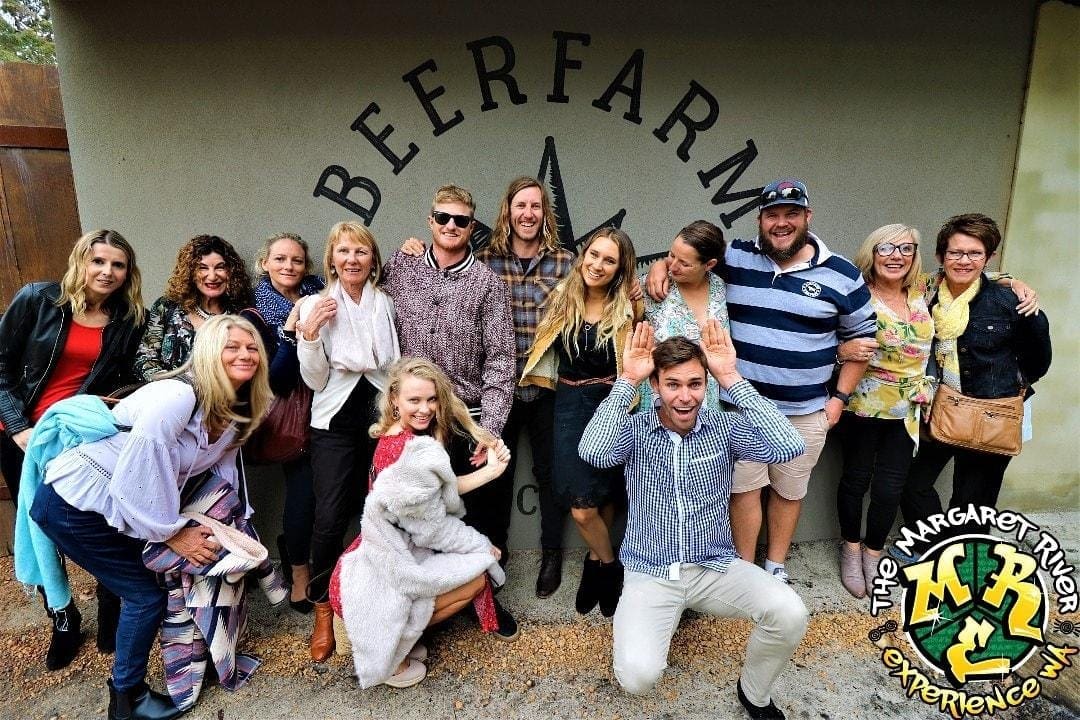 CHEEKY MONKEY BREWING
Another great stop on our beer tours, Cheeky Monkey Brewing has a cellar door and brewpub on site. And it's not just an adventure for beer lovers – it also has an epic playground for the little ones. They've recently rebranded and opened up a bigger brewing facility and bar near Busselton, where they are releasing all sorts of quality beers.
THE GROVE DISTILLERY
With tastings at $10pp, this is a stop we love to offer our punters! There's plenty on offer for all taste buds, you can choose between beer paddles or spirits. We'd recommend the liqueur tasting, as it's a great little change for the day. You get 3 mini liqueurs of their best sellers, and they're super yummy!
COLONIAL BREWING CO
One of the older and better-known beers in the southwest, Colonial Brewing Co is a great stop on your beer tour for the classic drinker who's new to the craft world. They also have a golf platform to smash some balls into the dam. Good quality brewpub meals if you need to refuel.
BLACK BREWING CO
Don't be fooled by it being called a brewery. For $20pp, the beer tours menu is to die for. With 5 options to choose from, very generous portions and high quality ingredients – it will be a delightful lunch had by all. And if that doesn't seal the deal, you can enjoy a wine or gin tasting, or a creative cocktail. If you're after a fancier option with friends, this is for you.
WILD HOP BREWERY
Say g'day to the new kid on the block! Opening in February 2019, they have an awesome modern but casual venue and some of the dankest beers around! We trust you'll give them a warm welcome.
EAGLE BAY BREWING CO
With sweeping views over rural landscape and the Indian Ocean, Eagle Bay Brewing Co is a microbrewery, restaurant and vineyard. It's tucked away on a family farm in the northwestern corner of the Margaret River wine region. With a superb range of brews and wine, as well as a playground on site – there really is something for everyone.
MARGARET RIVER DISTILLERY
If you want to mix up your day with some distilleries, Margaret River Distilling Co is where it's at. If you're staying in Margs, the best option would be to drop you there at the end of the day. There are only two distils in town and I would feel bad taking you here as it's so close to town.
ROCKY RIDGE BREWING CO.
If you're staying near Busselton, Rocky Ridge Brewing Co is a must stop! Grown and brewed on a 5th generation family farm, they value sustainability and sourcing the finest local ingredients. What's not to love?
So there you have it folks – our top picks for quenching your thirst across the Margs region. But the fun doesn't stop there…
Awesome Add-Ons
Select from a range of awesome add-ons to enhance your beer tour experience:
BBQ TOUR FEED
We've teamed up with the BEERFARM to bring your our BBQ TOUR FEED. For $30pp you can wrap your lips around the beer farms very own Black Angus beef. Pair it with a frothy of your choice, or a wine or spirit if you're feeling fancy. Good times all round.
STAY A LITTLE LONGER
For those that want to keep the beer tour shenanigans going! For just $5pp, you can leave the last venue at 5:30pm instead of 4:30pm. That's one more hour of bloody good times.
Please note: this is subject to intoxication levels of the group (now might be a good time to mention, we've got a ZERO douche bag policy. Don't be that guy).
DRINK ADD-ONS
So many hops, so little time! But hey, with our drink add-ons you can get more bang for your buck. Whether it's our Distillery Delights from $10pp, or our Brews and Chews package for $15pp – we've got something for every appetite.
DINNER ADD-ONS
What's a day of tasting the finest brewski's in Margs without a feed at the end of it? Here at MREWA, we're one step ahead. We've hooked up with some local legends, so you can score some awesome dinner deals at the end of your day.
Staying in Margaret River? We'll take you to GOODFELLAS CAFE @ THE TUCK SHOP. As the name suggests, it's ran by a group of legends. Here, you can enjoy wood fired pizza and the finest beverages.
Staying in Dunsborough? We can drop you off at PEACE PIZZA for a wood fired wonderland. They're the neapolitan style pizzas you'd find on the streets of Italy – only with a modern flair.
The Finer Details: Where and When?
You can book our brewski beer tours on the daily, and they run roughly from 10:30am to 4:30pm. We offer pick up and drop off all across the Margaret River Region, including Dunsborough, Busselton, Yallingup and anywhere in between. All aboard the funky bus!
Click here for more deets, or to book your upcoming beer tour!