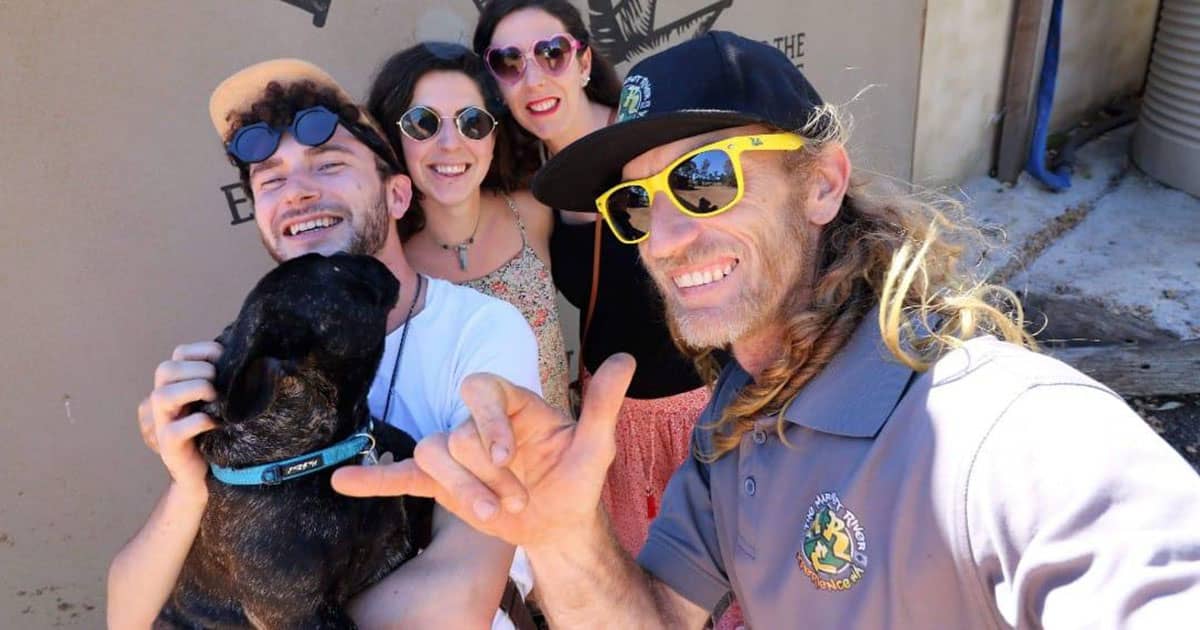 After living within the Margaret River region for many years and providing brewery tours to thousands of tourists, we have a pretty good idea of the best breweries Margaret River has to offer.
Here are our top 6 suggestions along with the reasons that make them stand out from the crowd.
The Best Breweries Margaret River Has to Offer
#1 Beerfarm
Beerfarm is located just off Bussell Highway in Metricup, approximately halfway between Dunsborough and Margaret River. In addition to recently being awarded the number 1 brewpub in Western Australia, their India Pale Ale was also awarded the gold medal at the Australian International Beer Awards of 2017.
With up to 10 chilled beers available on tap, they offer everything from a classic German style lager right through to a hazy double IPA at 7.8%. And they must be doing some right… Within recent years their beers have become a regular in bottle shops all across Australia.
With a focus on sustainability and commitment to the future, Beerfarm has their very own herd of Black Angus cattle. This means you can enjoy a pint, paddle or drink of your choice while tucking into some of their 'against the grain beef'. If burgers aren't your thing, the rest of the menu is sure to make your mouth water.
Beerfarm is a great venue to end your day at, and you'll be able to chill out and listen to some live music on most Saturdays and holidays. In our opinion, it's certainly one of the best breweries Margaret River has to offer.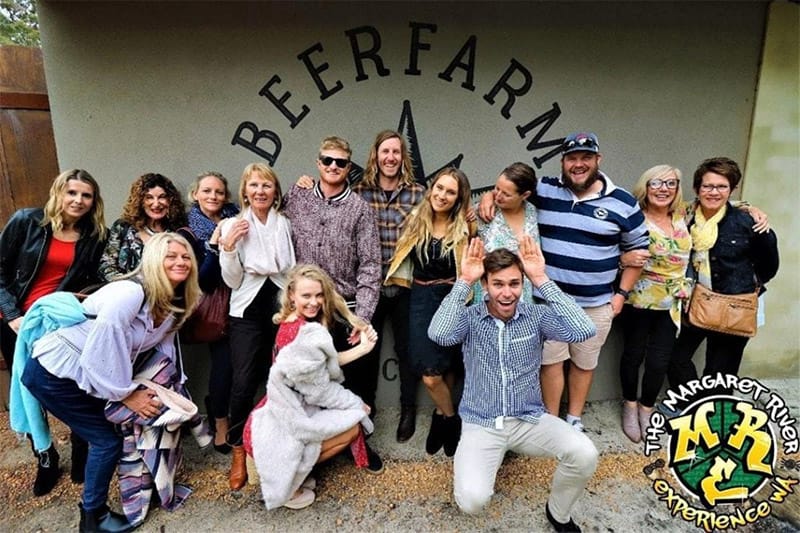 #2 Black Brewing Co
Just north of Wilyabrup is Black Brewing Co. A step up in luxury, this venue has it all!
Combining a brewery with a distillery and spacious restaurant, the interior has a luxurious feel with high timber ceilings. You'll enter the venue on a boardwalk surrounded by water and enjoy picturesque views of the surrounding lake and vineyard .
For as little as $20 per person, the beer tour menu is a must. Select from 5 options, including generous portions and quality ingredients. And if that doesn't seal the deal, you can enjoy an inventive cocktail, wine or gin tasting.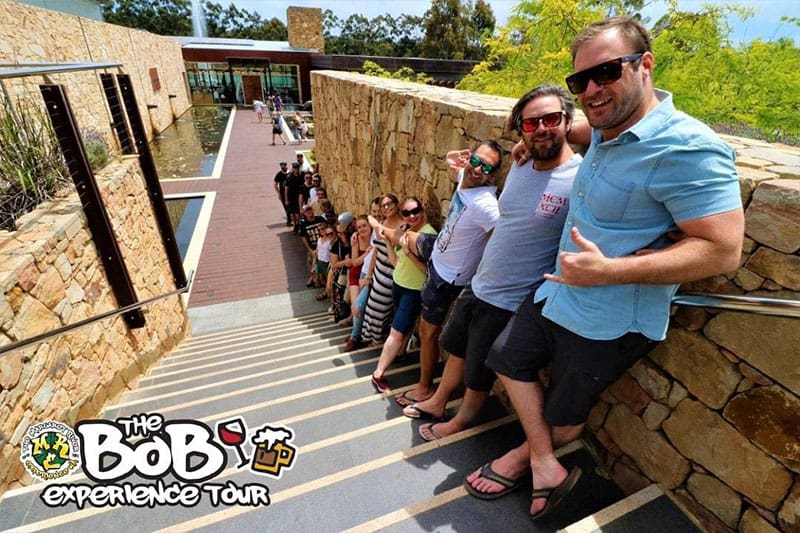 #3 Colonial Brewing Co
Located about 15 minutes south of Beerfarm is Colonial Brewing Co – another beer that you're now likely to find at your local bottle shop. As one of the oldest and more established breweries within the south west, they specialise in pale ales, while also offering two sour beers, a lager, cider and dark porter.
With a dam onsite, you can purchase a bucket and golf balls and tee off into the water while you enjoy a pint or tasting paddle.
The restaurant has also forged a reputation for delivering tasty pizzas and Australian bar food at a reasonable price.
#4 Wild Hop Brewery
Wild Hop Brewery is the new kid on the black. Opening their doors in February 2019, this brew-pub located in Yallingup combines modern facilities with a casual atmosphere.
As a small family owned and operated company, they are happy to stay that way and don't have any plans to take over the world. The venue is kid and dog friendly and located on the family's property.
Because they elected to not package their beers, they batch brew. Meaning that the list of brews on tap is constantly changing and rotating. On any given day, you may find anything from a plumb kettler sour right through to a cider.
The kitchen menu is designed to be shared between a group and has a focus on fresh, local ingredients. Two awesome options are the 48 hours brined whole rotisserie chicken with duck-fat potatoes, and the 500g Margaret River Wagyu steak.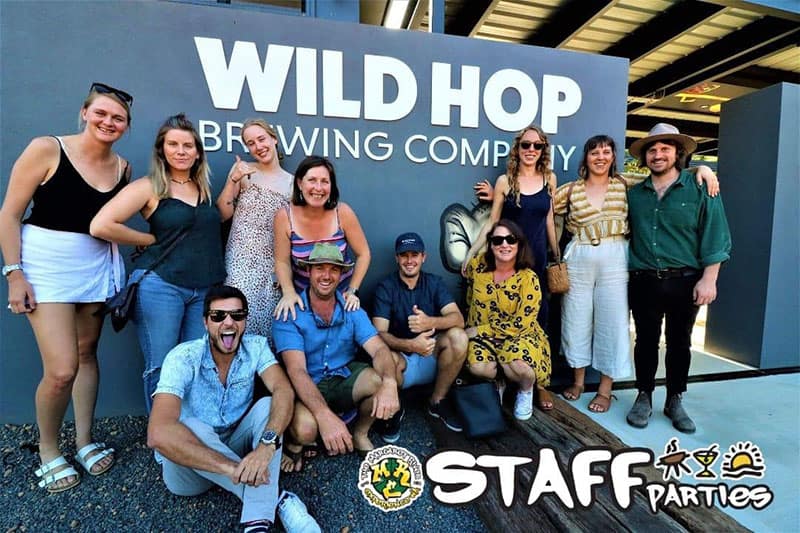 #5 Eagle Bay Brewing Co
Positioned in Eagle Bay, on the northwest corner of the Margaret River region, Eagle Bay Brewing Co is a microbrewery, vineyard and restaurant that has something for everyone.
Located on a family farm, the venue combines fresh beer, delicious food and handcrafted wine with a family friendly atmosphere. Positioned at the top of a hill with sweeping views, the restaurant overlooks rural landscapes from Cape Naturaliste and the Indian Ocean.
Select from a variety of handcrafted beers that are brewed in small batches, preservative free and include only 4 ingredients.
The menu includes a selection of delicious shared options, wood fired pizzas and main courses focusing on quality, local produce.
#6 Cheeky Monkey Brewing
Last but not least is Cheeky Monkey Brewery, another regular in bottle shops throughout Australia. This brewery and award-winning restaurant is located on Caves Road in Wilyabrup, approximately 15 minutes north of Margaret River.
The venue includes an epic playground for the kids and scenic views of the surrounding lake and vineyard for the oldies.
Select from a scintillating range of ales as well as a unique ginger and cider while you enjoy a tasty pub-style meal.
Visit the Best Breweries Margaret River has to Offer
At The Margaret River Experience WA, we offer daily private tours to some of the best breweries Margaret River can offer. You can visit some or all of the options above, or you may prefer to visit some boutique options that are off the beaten track. Either way, you're sure to have an experience to remember with The MREWA. Contact us today to find out more.