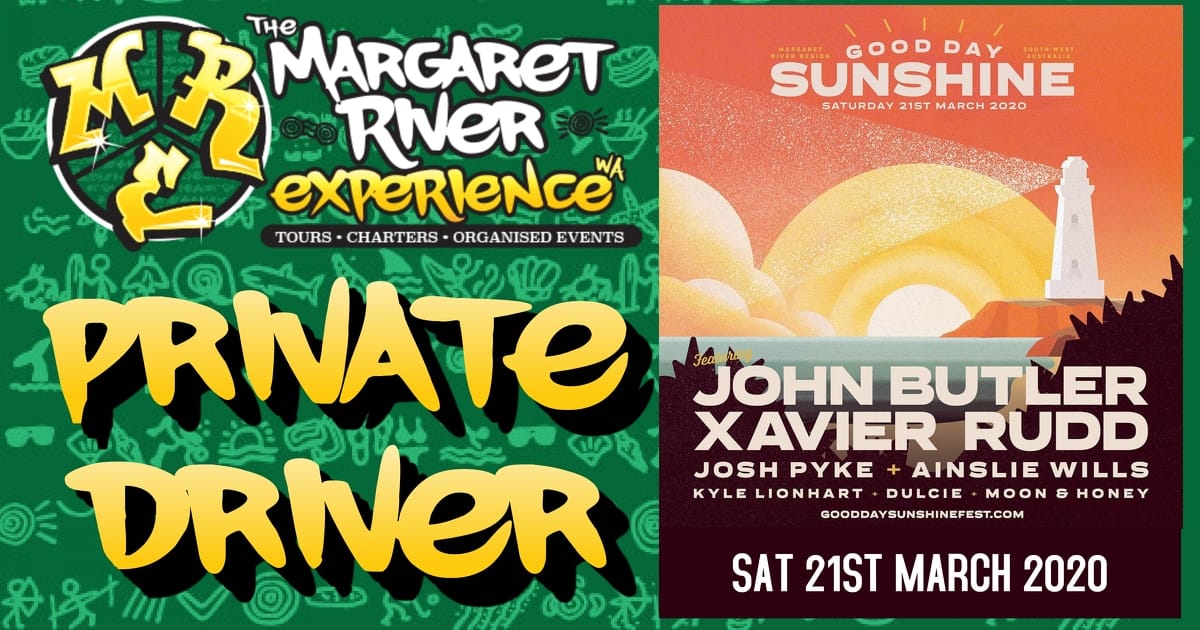 EVENT: Good Day Sunshine Festival I Margaret River
Taking over the beautiful grounds of 3 Oceans Winery on Saturday, March 21 2020, Good Day Sunshine features the absolutely stellar lineup of John Butler, Xavier Rudd, Josh Pyke, Ainslie Wills, Kyle Lionhart, Dulcie and Moon & Honey… plus a glorious array of local artisan food, drinks, stalls and artists.!!
DATE: 21/03/2020
LOCATION: 3 Oceans Winery
PRIVATE DRIVER: $ 150 up to 6ppl
EVENT START: 1:00pm
EVENT FINISH: 11:00pm
PRIVATE DRIVER SERVICE: Our newly launched Private Driver Service holds up to 6ppl. With all the Luxury of the Lexus tucked into our Tarago you will arrive in comfort and style.
PLEASE NOTE:
This event will only service people in the Margaret River and nearby areas. (Prevelly, Gracetown, etc.)
OFFICAL EVENT LINK: https://www.facebook.com/events/481167782607363
OUR BOOKING LINK: https://themrewa.com.au/product/good-day-sunshine-festival-i-margaret-river-i-private-driver/
BOOKINGS CLOSE 24HRS BEFORE EVENT WILL START