Are you and the ladies heading down south for a hens party? What better way to kick off the day than a hens winery tour from The MREWA?
At The Margaret River Experience WA, we have helped 100's of brides-to-be to make their hen's night an experience to remember!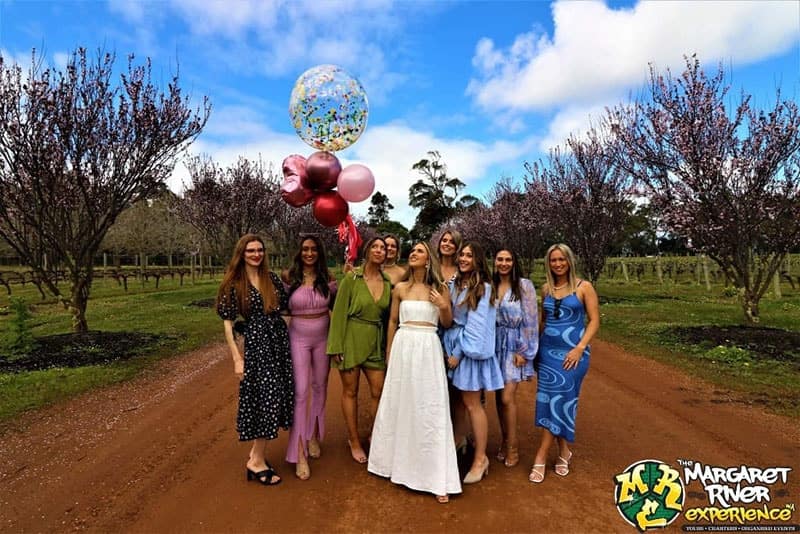 What's Included in a Hens Winery Tour?
We aim to make your hens winery tour as fun, flexible and stress-free as possible.
Here's what's includes on our full day / 6 hour tour –
Starting at 10:30am, we will pick up your group of up to 20 ladies from your place of accommodation in Busselton, Dunsbrough, Margaret River, Yallingup or anywhere in between.
Safe and secure transport to 4 or 5 wineries within the comfort of our private chauffeured van, which includes an inbuilt surround sound system. Please note: Many wineries offer free wine tasting, however a lot of wineries are charging for tastings (especially for larger groups), most of which are refundable on purchase of wine.
A stop off for lunch at a place of your choice, or ask us for some advice on the best places to eat (fees payable to the restaurant.)
Free water on board to keep you hydrated.
Drop back to your place of accommodation by approximately 4:30pm. If you'd like to stay a little longer we can extend your hens winery tour for a small fee.
Why Choose The MREWA?
With a boatload of tour providers available to choose from, why would you choose The MREWA?
First and foremost, we have an awesome reputation that is second to none in Margaret River. Just check out our Google or Facebook profiles which have over 200 5 star reviews! Here is a recent review from Amy:
"Jye is hands down the BEST tour guide for Margaret River! Will never book with anyone else again. He did a great job with our group of school mum's, fab venues, great music, awesome service. Definitely recommend the flights and friends at woody nook too!"
Our business owner, Jye, is a Margaret River local and not only passionate about making sure you have an epic day, but will also take the time to educate you on the region and wine (if that floats your boat), along with providing some expert advice on how to maximise your experience on the day.
Our hens winery tour is fully customisable – Choose how many and which venues you visit, how long you stay at each, where you eat lunch and what music you listen too. Every tour we provide is unique!
Book Your Hens Winery Tour Today!
Give us a call today on 0484 538 885 to discuss your options or fill out our convenient form to request a quote tailored to your group's requirements.